SEO Alfreton
Get found for what it is you do and in the places you do it.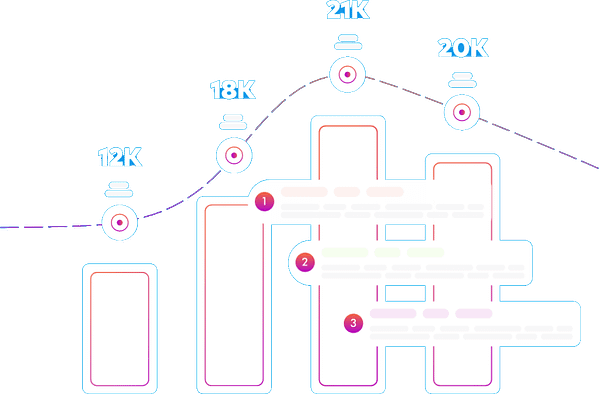 Search Engine Optimisation Alfreton
93% of people use Google for finding goods and services.
Are you being found on Google?
Chances are, you will be, for your business name. But are you being found for what it is you do? And in the places that you do it? This SEO service in Alfreton can help.
A poorly optimised website will not show up in the SERPs (Search Engine Results Pages). Equally, a website with technical faults or a poor user experience will be down-ranked as well. Mobile friendliness and site load speed are essential too.
While there are many aspects of modern SEO techniques, how your web pages are optimised can have a significant impact on their ability to rank.
FREE SEO Website Audit
Find out where your website isn't performing and what is possible with a 20 point SEO audit.
What is SEO?
SEO stands for Search Engine Optimisation. The goal of SEO is to climb up the search engine results. Your visibility will increase, as well as the number of customers who click through on your site.
Results can take weeks or months to come to fruition, but once they do, your website has a footprint on the internet that will last. SEO is a long-term investment that can provide a high return on investment.
SEO is a process that requires a few small wins to achieve a large win. However, the dedication and hard work will pay off in the long-term, which will lead to your company's success.
How Search Works
Step 1: Crawling. Crawling refers to the process by which Google finds new information to add it to its catalogue of web pages. Google usually finds new websites by following links on other websites.
Step 2: Indexing. After Google has found your site, it analyses the content and organises it in Google's information library. This is known as indexing.
Step 3: Ranking. Google searches its vast library of content for the most relevant web pages to match a user's search query.
LOCAL SEO
Did you know that 97% of people find local businesses online, and 72% of those who did a localised search found a business within five miles. A solid local SEO strategy will help you get on the map.
Local SEO is about increasing your online visibility to ensure that your business can easily be found by local online searchers. These could be brick-and mortar businesses, such as a dentist or solicitor, or service-area companies that are located in a specific area, such as an electrician, plumber or builder.
This covers everything, from claiming a Google My Business (GMB) listing for a business to making sure a branch location appears on a Google local search (also known as location data management or citation managing). This includes managing online ratings, reviews, engagement on social media, and other local-centric activities.
On-Page SEO
On-page (or on-site) SEO is the technique of optimising elements within a website.
On-page SEO is the optimisation of both the page's content and HTML source code. Commonly, this involves making sure that the page's title tag, URL, content of the page and the image descriptors are all thematically relevant to the topic of the page.
Proper on-site SEO helps search engines understand page content and allows users to quickly and easily find the page that answers their query.
Good on-site SEO allows search engines to understand what a user would see and what value they would receive if they visited a page. This helps search engines deliver high-quality content that is relevant to a search query (keyword) so that users can easily navigate to those pages.
On-site SEO is about making it as simple as possible for users and search engines to find you.
GOOGLE PAGE ONE VALUE
Having your website appear at the top of organic results increases visibility and trust. It also drives website traffic and increases clickthrough rates (CTR).
Each dominated area is equivalent in value and effectiveness to a full-page, full-colour advertisement in an old Yellow Pages book.
Search engine optimisation and Page 1 placement on Google Search means that you can only compete against a few local businesses, instead of the hundreds you would face in traditional print advertising like Yellow Pages.
Google's algorithm is constantly changing, but one thing remains constant: Google's first page results receive most of the traffic.
Backlinko reports that only 0.7% of Google searchers click the second page. Can you afford not to be found for what it is you do, and where it is you do it?
RV Construction
Loft conversion company who were receiving no leads. They had a new website created, with 257 location pages covering a 20 mile radius from their central location.
Search results for the 8 main locations in their area:
Phillips Solicitors
Solicitors based in Mansfield, they were not ranking for any of their services in Mansfield nor were they being found in the locations they serve. The website was optimised and 246 location pages built.
Search results for the 8 main locations in their area:
F&F Promotional
Embroidery and screen printing company based in Hucknall. They had a new website created, with 164 location pages covering a 20 mile radius from their central location.
Search results for the 8 main locations in their area:
Bifold Doors Derby
Bifold and patio door fitting company based in Derby. They had a new website created, with 215 location pages covering a 20 mile radius from their central location.
Search results for the 8 main locations in their area:
Bypass Your Competition
Local SEO is more advantageous than traditional methods that your competitor may use (flyers, newspaper ads etc.)
Different competitors may sell the same product or service as you, but if one company focuses on local SEO, while others use traditional methods, that company will stand out from the rest.
People will inevitably redirect to a business that ranks higher in SERP results as they want to find a company local to them who offers your service.
Your company can gain a competitive advantage that will propel you far ahead of your competition by using practical SEO strategies such as on-page optimisation and creating specific location pages for your service area.
Ready for more enquiries?