E-commerce Web Design Alfreton
Looking to sell online? Get a fast-loading, optimised website powered with WooCommerce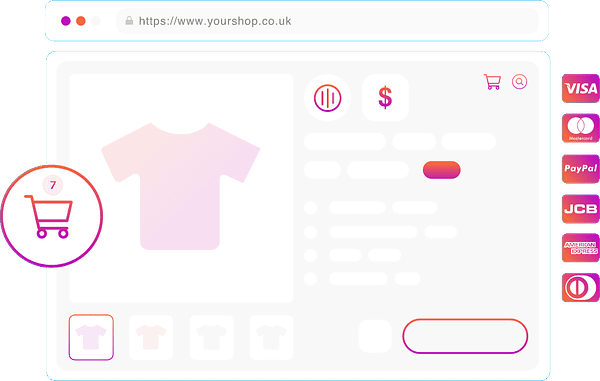 E-Commerce Website Design Service in Alfreton
E-commerce is also known as internet commerce or electronic commerce. It involves the purchase and sale of goods and services via the internet and the transfer of money and data necessary to complete these transactions.
E-commerce has improved to make it easier for customers to find and buy products through online marketplaces and retailers.
E-commerce has allowed small businesses and independent freelancers to sell their products and services on a scale not possible in traditional offline retail.
Web Design Alfreton make this possible by utilising WooCommerce as an E-commerce platform.
Flexible and Secure Payments
In-Built Payment Solutions
WooCommerce as standard has the ability to accept bank transfers (BACS), cheque payments and cash on delivery as payment options.
Beyond this, there are many payment gateways to choose from and integrate with, including PayPal, WooCommerce Payments, Amazon Pay and Square.
Like PayPal, WooCommerce Payments allows you to start accepting credit and debit cards straight away without the hassle of applying for a merchant account which high street banks will make you set up before you can start accepting online payments.
What's more, Apple Pay and Google Pay are also supported for mobile users.
Manage Orders On the Go
Website Dashboard and mobile app
The WooCommerce dashboard allows you to update product descriptions or prices or fulfil orders from anywhere in the world.
If you are out and about, there's even a mobile app (for both Android and iOS).
With the mobile app, you can add new products, receive push notifications of new orders, and also manage them.
The app allows you to manage the entire order process from purchase through to fulfilment.
Limitless Possibilities
Sell Anything online
WooCommerce allows you to sell everything, from simple physical products and appointments to exclusive digital content for members.
Customers can choose from endless product options, subscription options, single products, or bundles.
WooCommerce supports all types of products: physical products, subscriptions. Bookings and appointments. Digital downloads. Services, accommodation.
Also supported is CSV import, so all your products can be imported from a spreadsheet with a few clicks.
Optimise and Grow
Digital Marketing Tools and Integrations
WooCommerce also integrates into your existing sale channels, such as eBay, Amazon and Etsy.
Google and WooCommerce can help you increase traffic and sales. Connect your store to Google to reach millions of shoppers through the Google Advertising Network – at any budget.
Facebook allows you to target your audience and keep in touch with customers.
Google Analytics allows you to track and report on the performance of your marketing activities.
Benefits
What are the 5 key benefits of A Woocommerce Powered Online Store?
Customisable to your exact specifications
WooCommerce is an expertly designed, comprehensive solution to online store development requirements. WooCommerce allows you to seamlessly access a variety of features, such as order tracking and customer engagement. WooCommerce's customisability is the best thing about it.
WooCommerce is extremely secure
WooCommerce is widely considered to be one of the most secure e-commerce platform there is. You can also get security updates regularly, which will allow your customers to shop with confidence on your online store.
SEO-friendly
WooCommerce is different from the rest. There are many reasons why WooCommerce is so special, but the most important one is its SEO-friendliness. The interface is intuitive and allows you to enter product details and a description. It also works with third-party SEO plugins.
Analytics gives you access to key insights
WooCommerce analytics can be a powerful tool in your marketing strategy. You can make an actionable plan based on product performance, customer behaviour analysis and demographics. Sales data is made visual with the easy-to-understand pie charts and graphs.
A whole range of features
WooCommerce is a comprehensive solution that meets every need. It scores high on all fronts, including interface design, SEO, delivery options and security, customisation, and analytics. We can only mention a few useful features, such as product ratings and reviews, location customisation and creating and managing product categories, customer management and currency/tax management.
Interested in an e-commerce website design?
What is e-commerce?
E-commerce is also known as electronic commerce. It involves the purchase and sale of items via the internet and the transfer of money and data necessary to complete these transactions. E-commerce is commonly used to describe the online sale of physical goods.
Which is the best e-commerce solution?
Every year, thousands of new e-commerce companies are created. There are many options available to new online retailers when it becomes time to choose a platform. By far the most popular platform is WooCommerce, used by over 30% of e-commerce retailers.
Do you use WooCommerce?
Yes! WooCommerce can be found on approximately 2.3 million e-commerce sites around the globe. It is especially friendly for new merchants, as it combines simplicity with extraordinary power, flexibility, features, and ease-of-use.